A.I.M. Radiant Heating is proud to offer the complete line of oil, natural gas, propane, and wood boilers for both residential and commercial applications.Question: How do I choose the "BEST" boiler for my heating needs? Contact A.I.M radiant heating at (888) 773-4564 or fax us your plans to (518) 622-2203 and we will provide you with the correct size boiler to heat your home or business.Since its establishment A.I.M. has prided itself on offering boilers of premier quality at affordable pricing.Whichever boiler you choose, quality and performance are assured due to our stringent testing and manufacturing specifications.
The newest additions to the A.I.M. product line includes a tankless water heater with integrated domestic hot-water capabilities and ultra high efficiency boilers.
Any of the boilers featured by A.I.M. can be designed with our Boiler Room in a Box unit. This provides our customers with the utmost of diversity in designing a complete heating system to meet all of their needs and expectations. The right system design is critical to obtain the highest degree of efficiency and comfort
The A.I.M. Line of boilers range in efficiency from the low 80's to 100% efficient.
The thermal efficiency is determined by determining the percentage of heat transferred to the boiler water from the fuel used. The amount of loss is calculated by the amount of heat that goes out the venting of the boiler. For example, if a propane boiler with an input of 100,000 btu's delivers 86,000 btu's to the water and 14,000 out of the venting it is 86% efficient.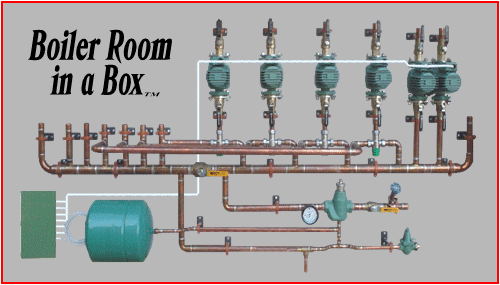 The Boiler Room in a Box is a pre-assembled series of manifolds and controls. These units are custom designed, with or without a boiler, specifically for each application and priced accordingly. All of the components are then connected and mounted in a crate for shipping. To install the Boiler Room in a Box, the crate is simply bolted in place and is now ready to accept the final electrical and plumbing connections. This product eliminates the possibility of having to turn away a job due to a lack of time and is the ultimate tool for the contractor seeking to maximize their schedule of project completion.


---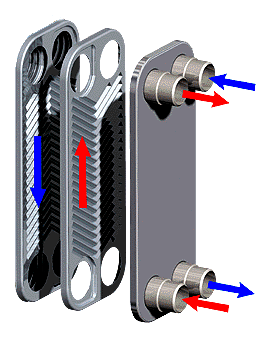 Plate Heat Exchangers can be used for a variety of different applications. Heating driveways, pools and domestic water are just some of the uses that these units can accommodate. A heat exchanger warms water or another fluid with water from the boiler while at the same time keeping the two liquids isolated. The Heat Exchanger will be mostly used to preheat the water for irrigation in Greenhouses to a temperature close to the plants growing temperature not to shock the tender growth. To imagine the shock you are giving the plants every time you water with ground water temperature try taking a shower and turn off the hot water.