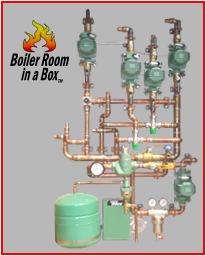 The Boiler Room in a Box® is one of the most fantastic advancements in the heating industry. The units are custom designed, with or without a boiler, they are specifically customized to fit the specs and to meet the needs of the customer. The larger systems or oil fired systems will require a floor mounted boiler.
All of the components come piped, wired and packaged in a shipping crate. When the Boiler Room in a Box® is delivered to the job site the front and sides are removed from the crate and the unit is mounted on the wall. With only a few basic connections the installation is complete.
A.I.M. developed the Boiler Room in a Box® to take the guesswork out of the component placement in the boiler room piping setup and to increase the accuracy of bidding a job price.
The Boiler Room in a Box® is the ultimate tool for the radiant heating contractor to increase job productivity and profit. The contractor is able to set a more accurate price by placing their profit on a set material price rather than trying to estimate with reasonable accuracy, the time required to install all of the components. In turn this also reflects more accurate and in most cases lower pricing to the consumer.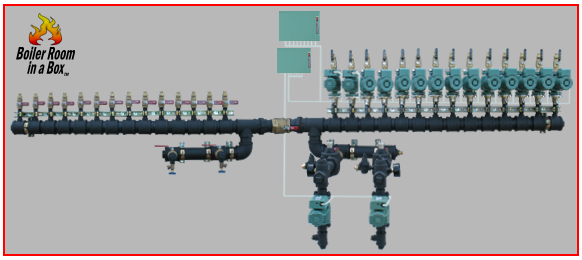 For the do-it-yourselfer, the Boiler Room in a Box® simplifies the installation enough that most anyone can install the system with ease. Each Boiler Room in a Box® is custom designed and assembled at the A.I.M. facility to the specifications of the project requirements.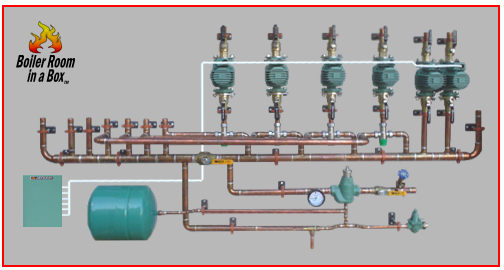 The Boiler Room in a Box® is a pre-assembled series of manifolds and controls. These units are custom designed, with or without a boiler, specifically for each application and priced accordingly. All of the components are then connected and mounted in a crate for shipping. To install the Boiler Room in a Box®, the crate is simply bolted in place and is now ready to accept the final electrical and plumbing connections. This product eliminates the possibility of having to turn away a job due to a lack of time and is the ultimate tool for the contractor seeking to maximize their schedule of project completion.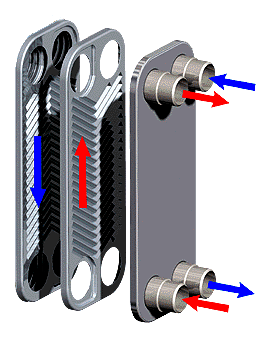 Plate Heat Exchangers can be used for a variety of different applications. Heating driveways, pools and domestic water are just some of the uses that these units can accommodate. A heat exchanger warms water or another fluid with water from the boiler while at the same time keeping the two liquids isolated. The Heat Exchanger will be mostly used to preheat the water for irrigation in Greenhouses to a temperature close to the plants growing temperature not to shock the tender growth. To imagine the shock you are giving the plants every time you water with ground water temperature try taking a shower and turn off the hot water.