What people are saying about A.I.M.
Dear A.I.M. Radiant Heating:
I have to tell you, after we finally got the hang of the new heating system, it kept us toasty all winter long and spent $ 40.00 in propane over a 6 month period. The best part was my propane company called to make sure we were ok, and actually thought we were in Florida for the winter!! LOL That was funny. I can't get over the money we have saved. Purchasing the system was the best investment we ever made and would recommend it to anyone.
Thanks for everything and have a good day.
Karen
Ghent, NY


---
Dear A.I.M. Radiant Heating:
The floor radiant heating system that you installed in our new home eleven years ago is still perfectly working perfectly. Over the years we have had no problems. Our 3100 SF house uses between 1000 and 1100 gallons of oil for heat and hot water consistently.
Thanks for a great job.
Al Hartheimer
Doris D. & Albert S. Hartheimer
Lanesborough, MA


---
Dear A.I.M. Radiant Heating:
After living with an inadequate forced air heating system in my house in Albuquerque, NM I decided that it was time to upgrade. After researching the different options, including a new forced air heating system, Fin baseboard heat, and Slimline baseboard heat, I decided that a Slimline system offered the best in comfort and design.
I looked at the different options on the Internet, and I contacted a couple of suppliers, including A.I.M. Radiant Heating. From the beginning I was impressed with the company's fast response and detailed information collected. Many companies do heat loss calculations by "rule of thumb", but A.I.M. Radiant Heating needed a layout of the house, including details of the insulation, windows etc. to create an accurate calculation. They also discussed how many zones were needed, and if domestic hot water should be included.
In a few days I received the first proposal. Since I still had some questions, I spoke directly with the president of the company, who answered my questions and tailored the system to my specific needs and requirements. After we completed the design, which included a Boiler Room in a Box, production of the system started, and a few weeks later all the items arrived at my house. Everything was professionally assembled and packaged.
After arrival of the system, I started the installation of the Slimline panels and PEX supply lines. Every step of the way, the detailed documentation provided by A.I.M. Radiant Heating answered most of my questions. However, whenever anything needed clarification, the company was only an email or phone call away. I needed a couple of additional items along the way, and they were always shipped quickly to me. I had a plumber install the Boiler Room in a Box and gas lines, but that was pretty easy as the system was preassembled in the factory.
In summary, I had a great experience working with A.I.M. Radiant Heating. The product and staff is excellent. My new system looks great installed, and I can't wait for winter to feel the comfort of radiant heat. If you need a new heating system, look no further than A.I.M. Radiant Heating.
Regards,
Jens Nielsen
Albuquerque, NM



---
Dear A.I.M. Radiant Heating:
We realize you do not know us; however, we wanted you to know how much we appreciate your extremely knowledgeable staff. Barb took my order for the Boiler Room in a Box. She received permission from Roger to assemble the box in a custom size 4'6" x 3'6" and remote hook up the manifold to fit our sizing requirements. The system is now up and running and operating perfectly. All for less money than we could have done it from scratch.
Both Roger and Barb have gone above and beyond the call of duty and made us very happy customers. Every question and concern was promptly and professionally answered. You can tell they both love what they do!! We will recommend your company to anyone who wishes to install a radiant heat system.
Feel free to use us as a referral for anyone wishing to purchase one of your Boiler Room in a Box systems.
Thank you for your time and for a wonderful staff and product.
Regards,
Gary A. & Lisa M. Kotsiris
Union, IL



---
Dear A.I.M. Radiant Heating:
This letter is written to express how happy I am with the Boiler Room in a Box radiant floor heating system I purchased from your company in 2003. I learned of A.I.M. after watching an episode of the Bob Vila's "At Home Show". The show convinced me that a radiant flooring system could be affordable for my new home if I was willing to do the installation myself. Having limited plumbing skills, the Boiler Room in a Box application was the perfect solution to meet my needs.
After working with your company to finalize a system design for my 2,500 sq. ft. two story colonial replica house. I ordered all the materials to heat all of the main floors of the house and also decided at that time to install 'pex' heating pipe in both my cellar and garage floors. The instructional video which came with the system provided me with almost all of the directions I needed to install the pex-al-pex tubing and finish assembling the system. On a number of occasions, it was necessary for me to call members of the A.I.M. staff to get advice or detailed instruction on some aspect of the assembly or operation. My request for technical assistance has always been answered by someone who has been knowledgeable and concerned that my questions were addressed in a timely manner.
It has been four years now and everything keeps humming along in total silence. I love the fact that I don't have any "heating ducts and radiators" to distract from my hardwood floors. The Takagi "on demand" furnaces have operated flawlessly and continue to be extremely economical when compared to the other types of heating systems I've owned. I am happy to report that the system and your support have exceeded my expectations!
Thank you again for your personal assistance and please express my appreciation to members of your staff for a "job well done."
Sincerely,
Bruce W. Silva
Storrs, CT



---
Dear A.I.M. Radiant Heating:
As consumers, we often make our displeasure known but we seldom take the time to express our pleasure with a product. This is one of those rare exceptions. A number of years ago, we were introduced to A.I.M. baseboard heater system at a home improvement show. We were so impressed by the esthetics and functionality that we added the brochure to our remodeling wish list.
Several years later, we embarked on our basement remodel. The basement was unheated and we were able to add the A.I.M. baseboard system, making it a 3rd zone in our home. I can't tell you how delighted we are with this product. It heats up rapidly and looks great. We trimmed our unheated walls with 5" baseboard for a uniform finished look.
We're now in the process of remodeling a small master bath and will install the A.I.M. baseboard. In this potentially damp environment, we especially look forward to no longer having to worry about rusting metal baseboards and dusty "fins".
Our next home will be A.I.M. from top to bottom!
Sincerely,
Pat and Bob Ching
Hartsdale, NY



---
Dear A.I.M. Radiant Heating,
We wanted to thank you so much for assisting us with our in the floor and underfloor radiant heating system. Having you reasure me that I could install the system myself was very helpful. The detailed installation instructions for how to install the Staple Up and the In The Floor was extemely helpful. The "Boiler Room In A Box" was easy to install because you did all the hard work.
We love the warm floor!!!! We would not even think of another type of heat after having it installed.
Thank you,
Raman & Pratiba Naryanswamy
Nashua, NH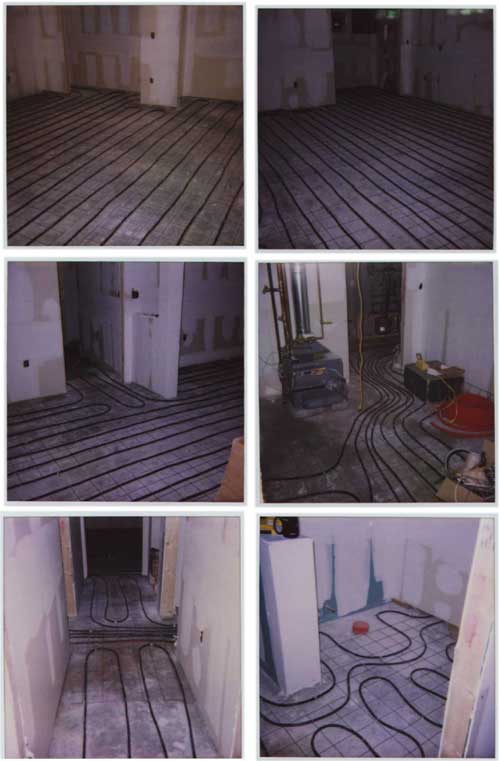 What you see are pictures of the in the floor system installed on a existing slab. This was installed in a non-finished basement. the process went like this:
The wire mesh was layed on the existing slab
The Pex tubing was tied (with pipe ties) to the wire mesh
Pea gravel was put in place to reduce the amount of cement required
Cement (Gypcrete) was poured over the top of the mesh, tubing and gravel to create a smooth heated floor
---
Dear A.I.M. Radiant Heating:
Dear A.I.M. Radiant Heating: I purchased your boiler in a box to heat my new woodworking shop. I have finally gotten around to finishing off the interior of the shop and wanted to start up the heating system. I was not sure how to begin the process of startup so, I called one of your systems technicians for help. He was very helpful and knowledgeable about the system that I had ordered from your company. During the startup process we discovered a few difficulties that with the installation of the boiler in a box by my local heating and plumbing contractor. But with the help of Lars we were successful in getting the system up and running and the total time taken to do this was very short. I want to thank the people who were involved in the construction of the boiler in a box, it is very well built. And again a very big thanks to Lars Andersen for all his technical assistance and patience given to me in accomplishing my goal, to get my shop heated. Sincerely,
Steve Gilbert
Underwood, ND



---
Dear A.I.M. Radiant Heating:
AIM did more than warm my house, they warmed my heart. I am almost finished with a 2-year renovation project on an old farm house where I, the homeowner, served as the general contractor. Just when I was convinced that quality craftsmanship backed up by smart and courteous customer service was a thing of the past, these guys showed up to restore my faith in American business! The Boiler Room in a Box they created for my radiant heating system is a work of engineering art. Getting it to work correctly took some time--not because of AIM but because of a few errors my plumber made in hooking up different aspects of the system. But, again, your associates provided excellent technical assistance by phone using photos they retain of each system to help guide homeowners through troubleshooting. From the first sales call to a recent on-site inspection, all of the guys at AIM provided the most honest, reliable and professional experience I have had during this project--and I have dealt with dozens of highly recommended tradesmen and sub-contractors. I can't recommend them highly enough. My only wish is that they also gave workshops to other businesses on the value of quality manufacturing and service!
Stephen Stafford
Livingston Manor, New York



---
Thank you, AIM!
Working with you through the course of our remodel has been an essential piece to our puzzle. Not only has your prompt and courteous staff educated us throughout the process, you have done so with patience and willingness. There is a lot to learn when installing a new heating system and I am grateful to you for answering my countless emails. It takes a special company to deal with a pair of inexperienced home owners and you've done it well. Our system looks fantastic. Its amazing to me how something can be built across the country, and be complete! It would appear that your sales staff thought of everything we would need and that's incredible. I feel safe knowing that when it's time to expand the system, the parts are going to be available. For anyone who's ever purchased something then couldn't get a replacement part, that is a very big deal. Not only will parts be there, but I feel assured that the staff will have a familiarity of our system. It's amazing that someone that's never seen our house can provide such an excellent and complete service.
Thanks once again, AIM. I feel warmer already!
Sincerely,
Molly and Omar Simon



---
This is my testimonial.
This is an open letter to any person who, like me, is a person who wants quality and wants to save a buck or two. If you are a do-it-yourself type of person and has a desire to take on large to medium sized projects and has been thinking about installing a radiant floor, you have come to the right place. I purchased my radiant system from A.I.M. roughly one year ago today. It took me about 3 months to install it ...working every evening after work. I shopped around my hometown and the internet and did a minimum of 2 years worth of research (and saving my money) until I found AIM. I spoke to knowledgeable technicians and could ask them any question radiant related and they would willingly give their valuable time to explain the hows and whys of things radiant. The people at AIM are kind, courteous and very willing and giving of knowledge. They want you to succeed! I have a "scorched air" system in my home but always wanted hot water heat but mostly a radiant system. Since I have installed it, I cannot impress upon you the difference in comfort. It has to be experienced. I have a significant area of hard surface flooring and I love to walk barefoot in my home now. My children can sit in the living room which is hardwood or sit on the floor in the bathrooms and not feel chilled. I have no drafts, no noise, only warmth. I even saved some money on my monthly heating costs! This system even provides me with seemingly endless supplies of domestic hot water. Remember the old policy of service after the sale? It is alive and well at AIM Radiant Heating. I am now adding radiant baseboard to my basement area and A.I.M. is there for me. Even before I purchased my system they were asking me questions about my future plans and included space in my manifold system for my future basement expansion! Now that is service BEFORE the sale. I suppose I can keep on adding all the little things this company has done for me, but space is limited. I do want to say "thank you" to the entire staff at A.I.M .
Your company is truly a class act. If I ever decide to become a heating contractor, I will be buying my supplies from you.
If anyone out there wants to see photos or a verbal testimonial, contact me.
-Previn T Marquez, satisfied customer.